10 Most Beautiful Places In India
1. Pangong Tso Lake, Ladakh, Jammu and Kashmir
Undoubtedly Pangong lake is the most amazing attraction of Ladakh. This insanely beautiful lake is located 160 km Southeast of Leh city. At an altitude of 4530, Pangong is one of the high altitude lakes in the Himalayan regions of India. This amazing 134 km long lake is extends from India to Tibet. The 60 percentage of the Pangong lake is lies within Tibetan range and remaining 40% lies within the Indian range.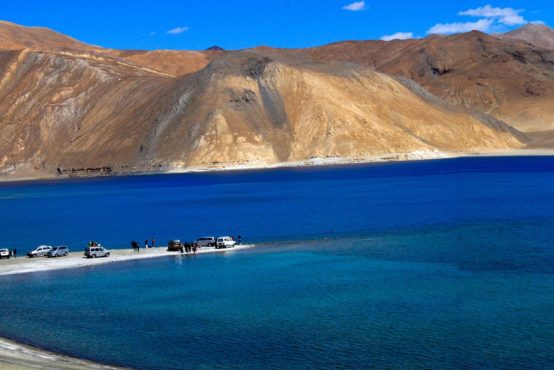 This surreal looking lake is globally renowned for its bright blue waters and the scenic surroundings. Surprisingly, the water of the Pangong lake also displays different shades of blue, green and red at different period of time.
There is no fish or other aquatic life in Pangong lake due to the saltiness of its water. However the lakes receive numerous migratory birds in summer season. Despite of its saline water, the Pangong lake freezes completely in winter. May to September is the best time to visit the Pangong Lake.
Apart from its great natural beauty, Pangong lake is also a calm, pollution free place. The route to Pangong Tso is as beautiful as the lake. You have to pass the Chang La mountain pass of Ladakh. It is third highest motorable road in the world at at an altitude of 17352 feet above sea level. On the way you can see scenic landscape and majestic mountains.