Top 8 Longest Suspension Bridges In The World
7. Tsing Ma Bridge, 1377 meters, Hong Kong
Tsing Ma bridge is the ninth longest span suspension bridge in the world, located in Hing Kong. The main span of this bridge measures 1377 meters in length. It connects Tsing Yi and Ma Wan Island of Hing Kong. The bridge is also named after these two islands. The span of Tsing bridge is larger than that of any other bridges in the world that carrying rail tracks. Tsing Ma bridge contains six lines for automobile traffic and two rail tracks in lower level. There are also sheltered carriage ways at lower deck for the bridge for maintenance access.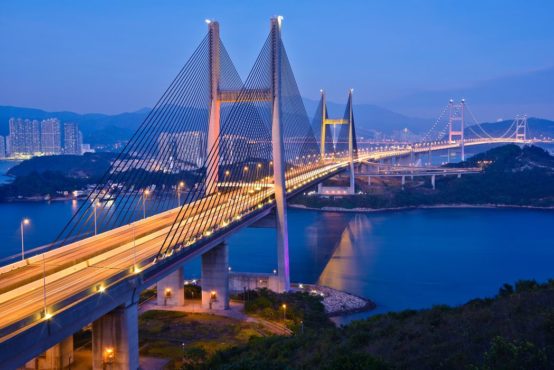 It took five years for the construction of this double-decked suspension bridge. This bridge was designed by UK based Mott MacDonald engineering group. The opening of Tsing Ma bridge took place on 22nd May 1997. There is also a visitor center and viewing platform located at the Tsing Yi Island end of the bridge. It provides outstanding view of this amazing bridge and surrounding places.
Tsing Ma Bridge is a bridge in Hong Kong. It is the world's 11-longest span suspension bridge, and was the second longest at time of completion. The bridge was named after two of the islands at its ends, namely Tsing Yi and Ma Wan. It has two decks and carries both road and rail traffic, which also makes it the largest suspension bridge of this type. The bridge has a main span of 1,377 metres and a height of 206 metres. The span is the longest of all bridges in the world carrying rail traffic.
The 41-metre wide bridge deck carries six lanes of automobile traffic, with three lanes in each direction. The lower level contains two rail tracks and two sheltered carriageways used for maintenance access and traffic lanes when particularly severe typhoons strike Hong Kong and the bridge deck is closed to traffic.