Top 8 Longest Suspension Bridges In The World
6. Jiangyin Bridge, 1385 meters, China
Jiangyin bridge is located in Jisngsu, Eastern coastal province of China, over Yangtze river. The main span of this suspension bridge have length of 1385 meters and have total length of 3 kilometers. This bridge was opened in the year 1999 and it remained as longest suspension bridge span in China for next 13 years. In 2002 Jiangyin bridge also awarded for outstanding achievement in bridge engineering.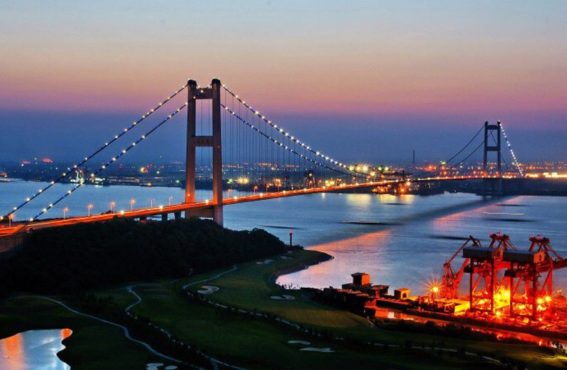 Jiangyin bridge was built to commemorate 50th anniversary of Chinese revolution. The construction work began in 1994 and completed in 1997. The bridge have a height of 60 storey building and have six traffic lines, three in each direction. Jiangyin bridge officially opened on 28th of September 1999.
The Jiangyin Yangtze River Bridge is a suspension bridge over the Yangtze River in Jiangsu, China. The bridge has a main span of 1,385 metres connects Jiangyin south of the river to Jingjiang to the north. When the bridge was completed in 1999, it was the fourth longest suspension bridge span in the world and the longest in China. Several longer bridges have since been completed in China and abroad but it still ranks among the ten longest bridge spans in the world. The bridge was also the furthest downstream on the Yangtze until the completion of the Sutong Yangtze River Bridge in 2008 and the Chongming–Qidong Yangtze River Bridge in 2011.
The bridge was planned so that it would be completed in time to mark the 50th anniversary of the Chinese Revolution of 1947. It was the first long-span bridge of its kind to be designed in China. Foundation work began in 1994. Engineering, manufacture and construction of the bridge was completed in just less than three years. The concrete towers are 190 metres tall, roughly equivalent in height to a 60 story building. The main span, constructed by Cleveland Bridge & Engineering Company, is made of flat streamlined steel box girders. The steel deck was erected by raising pre-assembled units weighing up to 500 metric tons with jacks. The total investment of the bridge adds up to 2.728 billion yuan. The bridge opened on September 28, 1999. Jiang Zemin entitled the bridge and cut the ribbon. Goodwin Steel Castings manufactured the cable bands for the bridge.