10 Most Beautiful Places In India
9. Dudhsagar Falls, Goa
The majestic Dudhsagar falls is one of most popular and scenic attraction in Goa. It is located in the Sangeum region of Goa, almost 60 km away from the capital city of Panaji. Dudhsagar falls is a series of four different vertical falls. Originated from the high peaks of Western Ghats, Dudhsagar falls have a total height of 310 meters.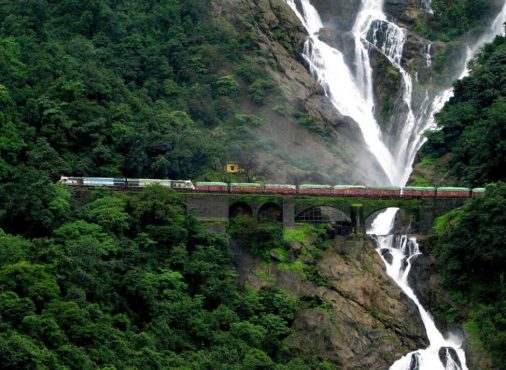 The Konkani name 'Dudhsagar' means 'Ocean of milk' in English. You will also feel like streams of milk flowing down the mountain when you see this spectacular waterfalls. Luckily, the South Central rail routes pass just in front of this gorgeous Dudhsagar falls. From the Kulem railway station (near Mollem National Park) you can take a pleasure train journey to Dudhsagar falls. The view of Dudhsagar, when the train crosses the arch bridge just in front of the falls is just breathtaking.
The monsoon season (from June to September) is the best time to visit the Dudhsagar falls. Because the water is in full flow during the monsoon season. You can also hike to the waterfalls along the railway track. While hiking you can enjoy the beauty of surrounding dense forest and old architecture of the rail tunnel built by the British.