10 Most Beautiful Places In India
2. Nubra Valley, Ladakh, Jammu and Kashmir
Located between Tibet and Kashmir and surrounded by snow capped peaks of the Himalayas, the Nubra valley is nothing shorter than a paradise. This picturesque valley is located at an altitude of 10000 feet above sea level. The famous Siachen glacier is located to the North of Nubra valley. It is the second longest glacier outside the polar regions.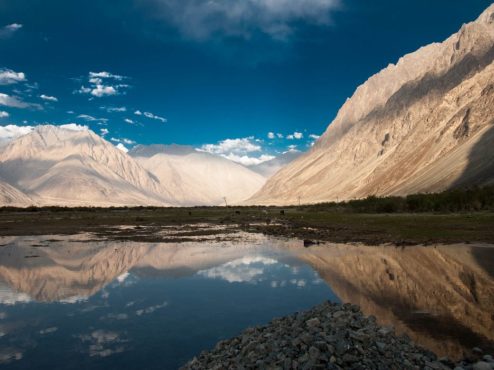 To reach the Nubra valley, you have to cross the Khardung La Pass. At an altitude of 5602 meters, it is the highest motorable road in the world. The attractions are endless on the route to Nubra valley. You can enjoy the view of steep mountain sides, sand dunes, mountain river and unique landscape. The famous Shyok river and Siachen river also meet at this amazing valley. Thus the Nubra valley is truly a blessed place by the nature.
The Nubra valley is also known as Moon land, because in winter season this amazing valley looks like a landscape of the Moon. There is also a cold desert between Diskit and Hundur regions of Nubra valley. You can also see sand dunes and double humped Bactrian camels in this desert.